Pepsinogen II
PGII
Pepsinogen II Assay Kit
Method: Latex immunoturbidimetric method Liquid reagent, R1: R2=27:5
CLINICAL SIGNIFICANCE
Pepsinogen (hereinafter referred to as PG) is an inactive precursor of pepsin in gastric juice and can be divided into two subgroups, PGI and PGII. PGI is derived from the main cells of the gastric fundus gland and the cervical mucous cells, while PGII is derived from the whole gastric gland (gastric cardiac gland, gastric fundus gland, gastric antrum pyloric gland) and the distal duodenum Brunner's gland. After synthesis, most of PG entered the gastric cavity and was activated into pepsin under the action of acidic gastric juice. Only a small amount (about 1%) of PG entered the blood circulation through the capillaries of the gastric mucosa. The serum PG level reflects the morphology and function of gastric mucosa in different parts: PGI is a pointer for detecting the function of gastric acid gland cells. The increase of gastric acid secretion lead to PGI increasing, in reverse, decrease secretion or gastric mucosal gland atrophy also lead to PGI decreased. PGII was significantly correlated with gastric fundus mucosal lesions (compared with gastric antrum mucosa), and its increase was related to gastric fundus duct atrophy, intestinal metaplasia or pseudopyloric gland metaplasia, and dysplasia. The progressive reduction of PGI/II ratio is associated with the progression of gastric mucosa atrophy.
PRECISION
Inter assay precision

N=5

Batch 1

Batch 2

Batch 3

Mean(ng/ml)

9.61

9.68

9.66

9.65

(Xmax-Xmin)/

0.79%
Intra assay precision

N=20

level 1

level 2

Mean(ng/ml)

9.925

36.015

SD

0.28

0.36

CV(%)

2.85%

1.01%
Sensitivity
When the sample concentration was 14.8 ng/mL, the absorbance varied from 0.0240 to 0.2450
Correlation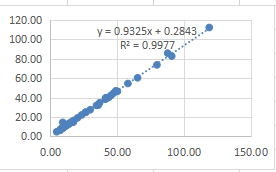 The correlation of a well-known brand(X) and Gcell(Y) is y = 0.9325x +0.2843, R2 = 0.9977
Interference
When Intralipid≤500mg/dl, hemoglobin ≤500mg/dl, jaundice ≤50mg/ml, ascorbic acid (vitamin C) ≤50mg/dl, RF≤520IU/ml, have less than 10% effect on the test result
Linearity
In the interval of [2.0, 70] ng/mL, the linear correlation coefficient r≥0.990, the linear deviation measured in the interval of [2.0, 10] ng/mL should be no more than ± 1ng/mL, and the linear deviation measured in the interval of (10, 70] ng/mL should be no more than ±10%.
Links