Pepsinogen I
PGI
PepsinogenⅠAssay Kit
Method: Latex Immunoturbidimetric Method Liquid reagent, R1: R2=27:5
CLINICAL SIGNIFICANCE
PGI is derived from the main cells of the gastric fundus gland and cervical mucus cells, while PGII is derived from the whole gastric gland (gastric cardia, gastric fundus, gastric pyloric gland) and distal duodenal Brunner's gland, which is also produced by the prostate and pancreas. A small amount of PG II, the PGII synthesized by the gastric mucosa is about 25% of the total. Most of the synthesized PG enters the gastric cavity and is activated to pepsin by acidic gastric juice. Only a small amount (about 1%) of PG penetrates the gastric mucosa capillaries and enters the blood circulation. Serum PG levels reflect the morphology and function of gastric mucosa in different parts: PGI is a pointer for detecting the function of gastric acid gland cells, increased gastric acid secretion, increased PGI, decreased secretion or decreased gastric mucosal gland atrophy, PGI; PGII and gastric mucosal lesions The correlation is large (relative to gastric antral mucosa), and its increase is related to gastric fundus atrophy, intestinal metaplasia or pseudopyloric metaplasia, and dysplasia; a progressive decrease in the PGI / II ratio is associated with the progress of gastric mucosal atrophy .
PRECISION
Intra assay precision

N=20

level 1

level 2

Mean(ng/ml)

30.88

67.63

SD

0.42

0.40

CV(%)

1.36%

0.59%
Inter assay precision

N=5

Batch 1

Batch 2

Batch 3

Mean(ng/ml)

28.4

28.4

28.3

28.32

(Xmax-Xmin)/

0.35%
Sensitivity
When the sample concentration is 19.8 ng/mL, the change of absorbance should not be more than 0.0290. Correlation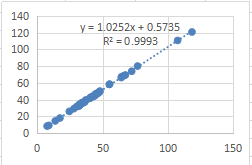 The correlation of a well-known brand(X) and Gcell(Y) is y = 10252x +0.5735, R2 = 0.9993.
Interference
The effect of Intralipid≤500mg/dl, Hemoglobin ≤ 500 mg/dL, Icterus≤50mg/ml, Ascorbic acid ≤ 50mg/dl
and RF ≤ 520IU/ml will not affect the results (relative deviation does not exceed ±10%).
Linearity
In the range of [2.5,160] ng/mL ,the correlation coefficient r ≥ 0.990,In the range of [2.5,15] ng/mL, the deviation should not be more than ± 2ng/mL; In the range of(15,160] ng/mL, the absolute deviation should not be more than ±10%.
Links